Description
Halloween Merchandise Liquidation Pallet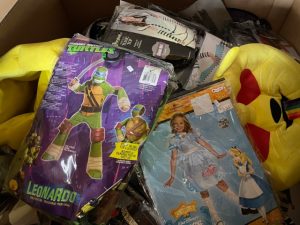 Pictures attached are examples from truckloads in stock. You can expect your order to be similar. Pallets contain 400-600 units on average and all items are new and shelf pull! The mix is costumes, accessories, decorations and party favors.
– Free local pickup – Monday – Saturday 10AM-3PM – 252 America Pl. Jeffersonville, IN 47130
– Shipping –  Rates may vary depending on location and number of pallets being shipped. Estimate provided when you checkout and additional charges may apply after the completion of your order.
CONDITIONS OF SALE: Buyer understands American Pallet Liquidators sells liquidated off-price, distressed, untested merchandise and makes NO promises of profit to be made. All merchandise is considered sold AS-IS. NO RETURNS, CREDITS OR EXCHANGES. Buyer agrees to refrain from advertising the name of the department store from which the merchandise originated. Buyer is responsible for all related taxes, licenses and shipping charges unless otherwise stated. It is hereby agreed that the laws of the state of Indiana, county of Clark will govern all matters concerning this sale. Should any dispute occur, the matter will be settled by the arbitration at the discretion of American Pallet Liquidators. Buyer agrees with the terms upon completion of the transaction.  These conditions are considered ACCEPTED once payment has been made and merchandise has been shipped.